Webloids™ let you buy interesting articles, tutorials and other digital content one item at a time.
because they promise titillating articles and interesting headlines. But $8 bucks for one story? Come on!... No one buys vinyl albums anymore. We buy music a la cart, one song at a time. That's what Webloids™ do for articles and other digital content.


You can purchase any Webloid™ here
or anywhere you see them on the web. No matter where you see them, authentic Webloids™ which you have already purchased are marked with


Wanna' make money? There are two ways.
1.) Author a Webloid™ and collect 50% of the revenue they generate no matter where on the web they appear.




2.) Paste any Webloid™ into your own website and collect 30% of the revenue they generate.


What Webloids™ you would like to see?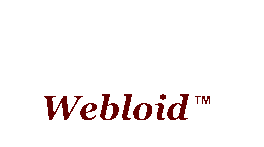 trademark of Jerry Wickey